Exclusive — Rep. Ronny Jackson: Thirteen U.S. Military Servicepersons 'Would Be Alive' If Donald Trump Was President
Thirteen U.S. military servicepersons killed in the suicide bombing attacks in Afghanistan would be alive if former President Donald Trump was still the commander-in-chief, Rep. Ronny Jackson (R-TX) stated on Tuesday's edition of SiriusXM's Breitbart News Daily with host Alex Marlow.
"If Donald J. Trump was the president right now, I can guarantee you they would be alive," Jackson determined. "I have no doubt about that. This is all [Joe Biden's] doing. This is the disastrous way that they pulled out."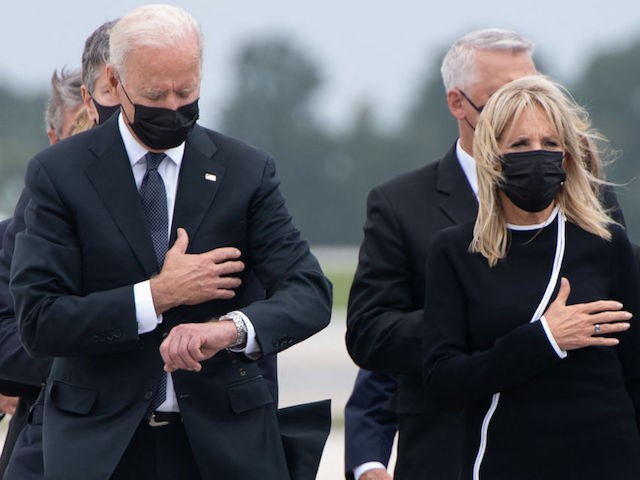 TOPSHOT – US President Joe Biden looks down alongside First Lady Jill Biden as they attend the dignified transfer of the remains of a fallen service member at Dover Air Force Base in Dover, Delaware, August, 29, 2021, one of the 13 members of the US military killed in Afghanistan last week. – President Joe Biden prepared Sunday at a US military base to receive the remains of the 13 American service members killed in an attack in Kabul, a solemn ritual that comes amid fierce criticism of his handling of the Afghanistan crisis. Biden and his wife, Jill, both wearing black and with black face masks, first met far from the cameras with relatives of the dead in a special family center at Dover Air Force Base in Delaware.The base, on the US East Coast about two hours from Washington, is synonymous with the painful return of service members who have fallen in combat. (Photo by SAUL LOEB / AFP) (Photo by SAUL LOEB/AFP via Getty Images)
Jackson warned that Americans left behind in Afghanistan will be extorted and held for ransom by the Taliban or ISIS.
He said, "It is a hostage situation, and it's going to declare itself over the next few weeks, It is nothing but a hostage situation, and we're already in situation where the Taliban realizes that they can ask for huge sums of money to allow people to pass through checkpoints. So the Taliban will extort people, and they will basically hold them hostage and not let them leave [until somebody pays their ransom and lets them pass the checkpoint."